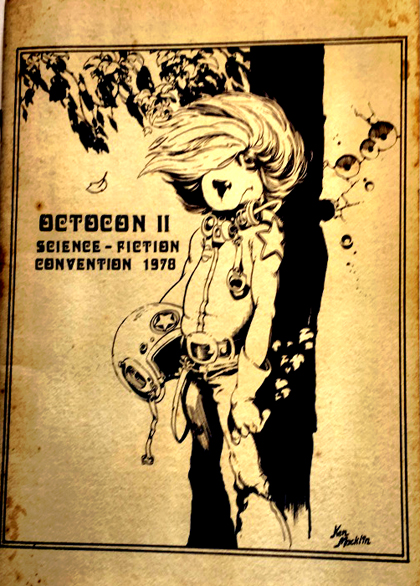 Sometimes as a fan, you have to go a long way to attend conventions. Take San Diego, for instance, which is a long way from anywhere that isn't in Southern California.
But once in a while, a convention drops into your back yard. The first comic convention I went to was Cotati-Con #1 (Which turned out to be the one-and-only), just south of Santa Rosa, California. It was a one-afternoon con held in a restaurant in 1973 that had a few Bay Area comic professionals show up like Frank Brunner and Larry Todd.
The next con I went to was an epic journey to San Diego in 1974.
But then, in 1977 & 78, in Santa Rosa, CA (Where I just saw Neil Gaiman give a talk last week…), there was a science fiction convention that I didn't truly appreciate at the time. It was called: "OCTOCON."
It was at the El Rancho Tropicana Hotel. (Out on Santa Rosa Avenue, where Costco is now…) In those days, the Oakland Raiders held their summer training camps there. (Back in the days of Kenny Stabler, Fred Bilitnikoff, John Matuzak, Jim Otto, Otis Sistrunk, from the University of Mars, & coach John Madden. Sorry, I digressed into my football fandom…)
But this convention came about because a famous sci-fi writer/icon had lived just up the road. Frank Herbert. You know, the guy who wrote DUNE.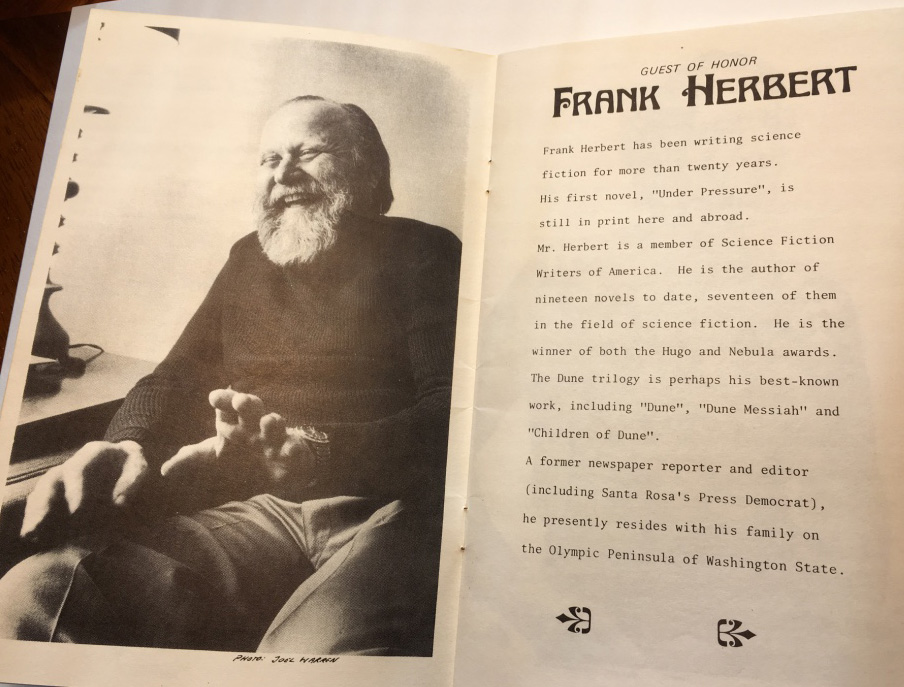 In 1978, he was the Guest of Honor, and a lot of his friends showed up. Just a partial list from '78 includes, Theodore Sturgeon, Robert Silverberg, Robert Heinlein, D. C. Fontana, Poul Anderson, Marion Zimmer Bradley, and just for good measure, not listed as a guest, I got to meet Philip K. Dick, just wandering the dealer's room. (He and Harlan Ellison were my favorite authors at the time…)
I was really just a comic book guy set up in the dealer's room with my pals, Al Gordon & Ken Macklin. We'd formed a team that did convention sketches. Ken was the penciller, Al was the inker, and, of course, I colored everything. We'd stumbled on a funny animal Star Wars parody we called "Star Farms." You know, with Luke Skybunny, Princess Kitty Litter, Swan Solo, & Darth Beaver.
It was a cash cow for us at cons for a while. That's where this picture of the three of us was taken.
Those were fun times. For me, I'd just returned from working with Howard Chaykin for 4 months in New York City on "The Stars My Destination." Even better, I came home with my first big professional job. I was coloring the Hulk Magazine, & Bill Sienkiewicz's Moon Knight for Marvel. Like I said, fun times.
But Octocon kind-of marked my transition from Fanboy to Professional.