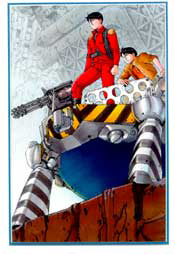 Akira was a ground-breaking Japanese Manga by Katsuhiro Otomo that stormed the planet in 1988. It was the most significant comic I ever worked on, because it ushered in computer coloring. It changed the way worldwide comic audiences thought about manga, and how color can affect previously black & white art.
It began in 1982 as a well-drawn and written science fiction manga, serialized in Young Magazine. Before long it was a huge hit in Japan. By 1988, there was an anime in the works, and to reach a wider audience, Otomo and Kodansha (The publisher) had cut a deal with Marvel's Epic line to do an English language edition.
Because they didn't think the American audience was ready to accept a black and white version, they decided to have it colored for the Epic editions.
That's where I came in. According to my friend, Tom Yeates, when Otomo and Kodansha were considering who should color Akira, they looked at the other titles in the Epic line, and were impressed with the coloring I had been doing on Tom's "Timespirits" mini-series. That added me to the list of colorists given tryouts. (For a more detailed story and timeline, see the history section of this website.)
Well, I got the job, and as they say, the rest is history… Here is a link to a video that Felix Lu, of Felixcomicart, made to help promote our sales of my Akira color guides.
STEVE OLIFF: Coloring AKIRA with KATSUHIRO OTOMO
in 1989, veteran colorist Steve Oliff was personally selected by Katsuhiro Otomo to color his seminal manga, AKIRA. This video documents their working relationship, including Otomo's trip to Point Arena, CA to collaborate with Steve on developing the color scheme. Steve hand-painted every page of AKIRA, using some combination of airbrush …
www.youtube.com
I've got a lot of stories I'd like to tell about the coloring of Akira, and the crew at Olyoptics that made it happen. This is just the tip of the iceberg.